Surgery
When your pet needs surgery, Green Lawn Animal Clinic can administer both gentle and effective treatment to your beloved companion. From routine procedures, such as spaying or neutering, to more advanced operations, our staff at Green Lawn Animal Clinic is trained to give your pet the care and compassion they need to not only successfully make it through the operation but to lead a healthier and happier life when they return from our facilities.
The modern amenities and pristine conditions of our surgical rooms enable our staff to function at peak capacity. We do everything in our power to streamline your experience so that all lab work and pre-surgical exams are completed in a timely manner. Our resources not only help our staff feel supported, they can also help your pet feel more comfortable in an unfamiliar place. We recommend a follow-up with each of our clients so we can catch small problems before they turn into larger ones.
You can expect our staff's complete attention when your pet is in the surgical room. Veterinary surgery often requires multiple professionals working together, which is why we make sure your pet's temperature, IV fluids, and anesthesia are constantly monitored and adjusted by a trained technician. Our team works together to communicate any potential anomalies that may compromise the efficacy of the surgery. We've found this strategy to be the best possible way to ensure favorable outcomes.
Before the surgery, we use the conclusions from the pre-surgery exam and accompanying lab work to determine which anesthetic and pain medication to use during the operation. It's Green Lawn Animal Clinic's goal to give you all the advice you need to properly care for your pet from the moment they come home from the surgery. Taking an all-around approach to surgical care is the best path to achieving better pet health, and we want our clients to feel as empowered as we do to help.
Visiting our facilities is the first step to learning more about how we manage to stand out. We can answer any questions you may have about the procedure, so you can feel comfortable about how your pet is being treated. From the type of anesthesia used to the length of post-care recovery, Green Lawn Animal Clinic gives you all the information you need to know so there are no surprises down the line.
Dental Care
When was the last time you had your pet's teeth cleaned? According to the AVMA, pets who have never had teeth cleaned have signs of dental disease by the time they are three years old. For that reason, Green Lawn Animal Clinic recommends that all pets have a yearly oral examination to determine if they need a dental cleaning.
Gum Disease in Dogs and Cats
Dogs and cats are prone to developing the same types of dental diseases and problems as humans, including gingivitis, periodontal disease, tooth decay, staining and cavities. The process of dental decay and disease starts every time your pet eats. When your pet eats, food particles get on their teeth and gums. This fuels the bacteria in your pet's mouth, causing an acid attack on the enamel of their teeth and creating a sticky, clear substance called plaque. If the plaque is left on teeth, it hardens into tartar. When plaque and tartar are left on your pet's teeth for an extended period of time, it can lead to gingivitis, periodontal disease, cavities and oral infections.
Signs of Dental Disease in Pets
When it comes to detecting potential oral health problems in pets, owners must be vigilant in noticing changes in behavior. This is because pets often do not act like they are in pain until the pain is severe. If you notice any of the signs below, it is important that you contact us to schedule a dental checkup, teeth cleaning and gum disease treatment.
Broken or Loose Teeth
Discomfort While Eating
Bad Breath
Discolored Drool
Red Gums
Staining on the Teeth
Swollen or Inflamed Gums
Weight Loss or Loss of Appetite
The Hazards of Untreated Periodontal Disease in Pets
Untreated periodontal disease in dogs and cats can lead to dangerous infections, like abscesses and blood infections. Advanced dental disease may also affect your pet's heart, liver and kidneys. In order to avoid these potentially life-threatening conditions, it is important to keep your pet's teeth clean with a combination of at-home care and regular veterinary teeth cleanings.
Pet Dental Cleanings
Dr. Gerber recommends that all dogs and cats receive their first oral checkup shortly after they are weaned and at least once a year for every year of their lives. Pet oral checkups include an examination of your pet's head, neck, face, ears and mouth in order to check for signs of dental problems. Once the basic examination is complete, Dr. Gerber may recommend a teeth cleaning for your pet. A dental cleaning completely cleans all the plaque and tartar from your pet's teeth and below the gum line followed by a polish on the teeth. Once your pet's teeth are clean, we can give you tips and tricks to help you remove food particles and plaque at home between professional pet dental cleanings, like pet-safe toothpaste and toothbrushes as well as dental chews.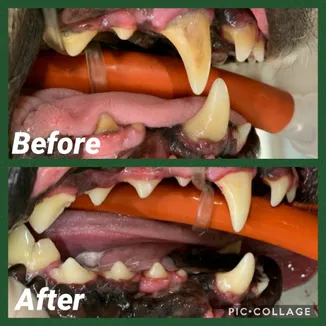 Dental Radiographs
Here at Green Lawn Animal Clinic we have the ability to take radiographs of your pet's teeth. This allows us to take a look at what is going on under the gumline, looking at the roots of their teeth and the bone surrounds them. If your pet requires an oral extraction, Dr. Gerber will discuss taking radiographs before and after the procedure, this lets us compare the images of the extraction.
Recommended Dental Preventative
Dr. Gerber only recommends the use of products approved by the VOHC (Veterinary Oral Health Council.) Any product that bears that VOCH seal is an approved product. Visit the VOHC website at www.VOHC.org and click on the approved products tab on the left hand side of the page to see the different products that are available to you and your pet.
To learn more about our veterinary dental services and how they can protect the health of your pet, call us at (937) 548-2875 today.