Benefits of in-house diagnostics and bloodwork
When your pet is sick, you don't want to wait days to get the results of blood tests and start his or her treatment. Our in-house diagnostic lab decreases the time to get results for your pet, which means faster treatment.
Bloodwork
Blood tests are an essential part of diagnosing what is ailing your pet, just as they are in human medicine. Blood tests can tell the veterinarian a myriad of things, from whether your pet is dehydrated to whether he or she has anemia to whether your cat or dog is suffering from cancer. We offer in house testing of red and white blood cell count, platelets, kidney and liver enzymes. Additionally, we can check your pets thyroid level and monitor blood levels for common medication such as seizure medication and NSAIDs.
Urinalysis
A in-house urinalysis is indicated for evaluating pets with urinary abnormalities such as increased urine production, increased urinary frequency, straining to urinate or abnormal color to the urine. It can help detect abnormalities, which require treatment. It can also help find serious diseases in the early stages, like kidney disease, diabetes, or liver disease.
Imagyst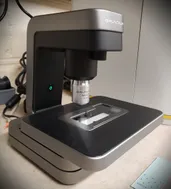 An innovative technology that uses AI technology for dermatology, blood smear and fecal analysis and digital cytology image transfer in a single platform. This in-house diagnostics tool allows us to detect intestinal parasites including coccidia and giardia, as well as roundworm, hookworm, and whipworm eggs. We can better diagnose and treat skin and ear infections by detecting yeast, inflammatory cells and bacteria in dermatology samples.
The Imagyst is able to provide cytology results in as little as 2 hours from a board certified pathologist. This means faster diagnosis and treatment for your pet.
Having a sick pet can be a scary thing. After all, they are part of the family. Green Lawn Animal Clinic wants to ease some of your anxiety and get your pet on the road to wellness quickly. That's why we've invested in an in-house diagnostic lab. Call us today at (937) 548-2875 to learn more about our in-house testing lab or to make an appointment for your pet.